The on-demand business is revolutionizing the methods people use to shop along with customer behavior. This revolution provides the customer with instant access to the goods and services they need at their fingertips.
It's not easy to run a business without taking advantage of the on-demand economy. The on-demand service marketplace is a one-stop solution for making any task accessible and to give its customers a user-friendly experience.
The newly generated on-demand models have opened the way of real-time fulfillment of goods and services. The on-demand model compromises access and ownership, and access to products and services is becoming more efficient, convenient, and impulsive.
The critical factors to be considered are the technical and marketing aspects, their implementations, and the technical constraints to build a promising on-demand service application.
Although the sector seems to be booming rapidly and increasing the number of players in the market, the focus is on providing on-demand services with feature-rich solutions and perceiving the current technological trends.
The whole idea behind the on-demand is accessing better than ownership. Getting into an on-demand economy generally includes four stages of development. Let's learn about it!
Find Your Industry or Niche
According to the growth of several industries, on-demand service apps are also increasing gradually. There are lots of Uber for X services using by people around the globe. But it doesn't mean that you can't find your niche. When you plan to enter into the on-demand economy, the initial step you have to do is study the current market. After completing a detailed market analysis, if you find any particular niche where technology can improve the communication between retailers and consumers, think more about that niche's possibilities.
Build an MVP and test your business idea with your targeted audience. You don't have to wait till you build the product to do testing. Collect as much information and analyze whether your business idea can hit the market or not. Talk to your team and communicate with people who can give suggestions. Do testing from the beginning of your product development. Because you will get more time and chances to check the product features, add new features, and correct the mistakes, you can launch a user-friendly quality product.
Check: 7 Steps to Create a Successful Mobile Application
2. Build an Efficient App
In our daily life, we are handling many on-demand apps. What's the attractive factor of these on-demand apps? It's the one-click formula. Users are happy when they get service in front of them after a few clicks. Consider Uber as an example. It is such a simple app to use, and billions are using Uber because of its easy to use features. If the app is not efficient, consumers will find alternatives.
Customer satisfaction is the main thing that you have to take into consideration while creating your app. At the time of development, you can test it with your targeted customers. Give them a chance to use it before the launch. Then it will help your team to fix the problems faced by your audience. When you launch your app with unique features, design, and simplicity, chances to enter into the on-demand economy are not that difficult.
Check: How Mobile Apps Help Your Business?
3. Ensure the value chain is optimized
Implementing some better mobile app strategies can drive your website's traffic and lead you to a highly profitable business. The platform is as important as other criteria for the design and development of the product. Optimizing the screen flows and UI elements will make the app run faster without delays. This helps users get attracted.
The need for services at the right time makes these aspects of being more reliable. If you want your customers to use your app, then you have to run the extra mile to optimize your value chain. Facilitation of timely scheduling or ordering paves a better way of creating a seamless customer experience and transparency in the services.
Check: Cost-Effective and Efficient Web and Mobile App Development
4. Attract Users and Build a Network
It is essential to develop an idea of using practicality and common sense. We have to get measurements and data, meaning we have to learn how, when, and where the product or service should hit in the market. These are necessary to attract more users. To attract more users and build a network, you have to focus on tech-savvy people once your product is launched.
If your app doesn't have visitors, then it's useless. While you focus on a tech-savvy audience, they will help you to spread the word about your app. Collaborate with tech-related events, networks, and conferences to inform others about your app launch. Also, offer your products and services to use for free. Thus the process will help to attract more users, and it helps to accelerate your product growth.
Check: Major Service Industries that Drive the On-Demand Economy
Benefits of On-Demand Economy
Cost-effective: Most of the on-demand services offer free use of their applications.
Control and operations: The service provider is one who controls the operations on a daily basis and App provider checks for all technological concerns.
Easier to use: A fast and simple user experience raises the chances of user retention. The on-demand platform is easy to use for its users.
Scalable: Each service provider is ready to join in on-demand platforms. Thus they can use this wide network with customers.
Cybersecurity: Most of the consumers are willing to pay online. On-demand services look after to take care of the cybersecurity problems.
Check: What Are the On-Demand Service Businesses?
What makes the on-demand service app successful?
Anticipating the success rate of any on-demand service app depends on the active usage patterns.
The on-demand service app should be timely updated.
The on-demand service app should fill the chasm between any buyer and vendor.
In the real-time, there should be a smooth and hassle-free communication between customer and vendor.
In today's hectic and fast-moving life, the on-demand service is a boon for many people. Hence they prefer the fair use of these services. If you want your app to be successful, it should possess the following characteristics:
The on-demand app should be affordable and should be user-friendly.
Technology is promoting a seamless experience to end-users and further providing transparency. This enhances user communication, ease of access to pricing, customer feedback, and several other things.
Successful on-demand services site flexibility and establish user commitments.
Check: Why the On-demand Business Model is a Successful Option For Startups?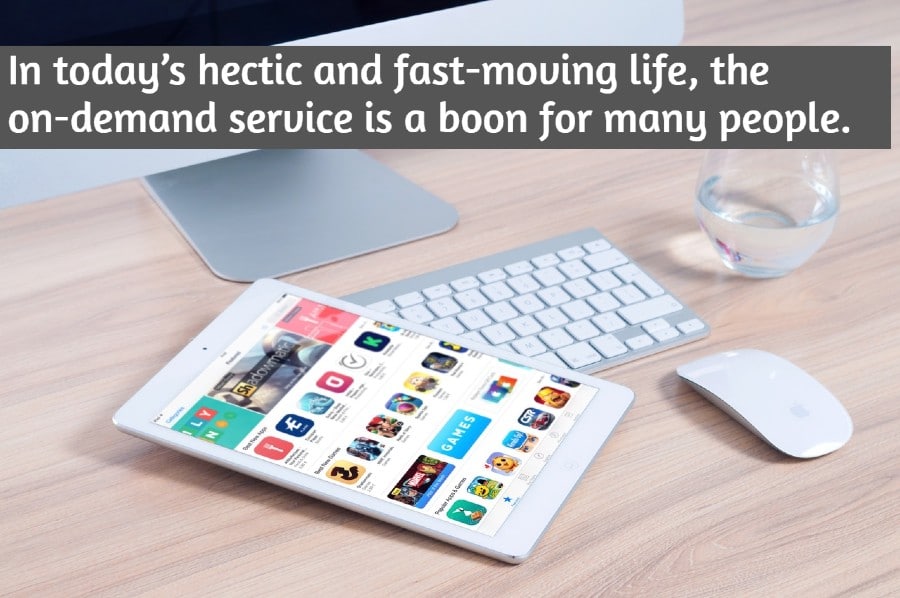 Conclusion
The on-demand apps are the future of traditional industries. It offers the customers whatever they need in a few clicks away. There are many benefits for the on-demand economy, including cost-effectiveness, flexibility and scalability.
On-demand business models are changing the way people think, buy, and sell. Nowadays, on-demand services are commonly seen in travel, hospitals, healthcare and more. If we can think deeper, we can find even more possibilities within a particular vertical.
You can start your on-demand service platform similar to Uber, Postmates, Instacart, Handy, Medly etc with the help of our readymade solutions.
Do you have ideas for providing on-demand services? If yes, then your search ends here. Get Free Consultation, if you are looking for expert advice and an ideal app in on-demand service app development.