Portfolio
Here are a few live websites powered by iScripts Socialware. This information is submitted by our clients.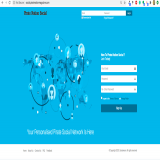 Pirate Nation Social
Pirate Nation Social, a social site from iScripts SocialWare endeavors to provide an online community. Participants have the opportunity to build relationships with people of similar backgrounds and interests. Pirate Nation Social running on social.piratenationmagazine.com became a reality by its base software iScripts SocialWare which is capable enough to provide individuals to organize family and friends in a positive networking environment.