Main Features
Simple site management - Powerful admin panel to manage all aspects of the site. No need to know programming.
Easy to upload and share videos.
Supports Google Adsense and regular banners - Generate revenue.
Video Channels. - You can have multiple video channels.
5Message Area. - Community users can communicate each other to increase return users.
Groups. - Social networking groups can be created by users to increase stickiness.
Different layouts/themes to choose from.
Favorite List - Users can save their favorite videos into favorite list.
User Playlist Management .
Unencrypted source code for easy customization - You can customize look and feel of the site as well as functionalities. If you are not sure we can customize it for you.
Friends Management - users can add/edit/invite friends.
User friendly installer wizard.
Free one year support and free upgrades .
Supports all popular video types and image types.
Supports tag clouds.
Copy embed video codes for social net working sites/ forums.
Supports plan system ,where admin can provide different plans for users to purchase from. This would generate constant income for the admin.
Screen Shots
User Panel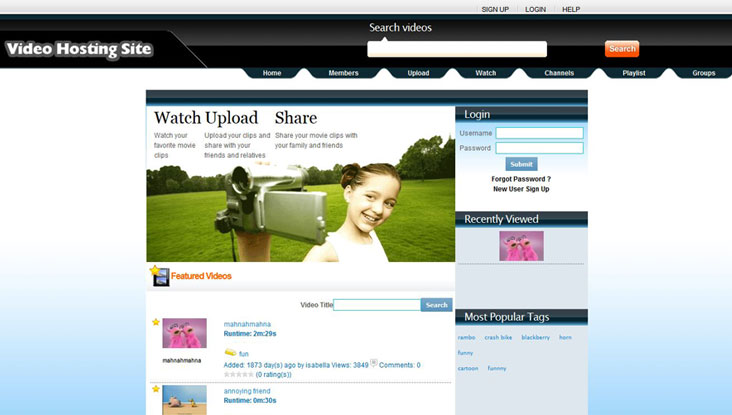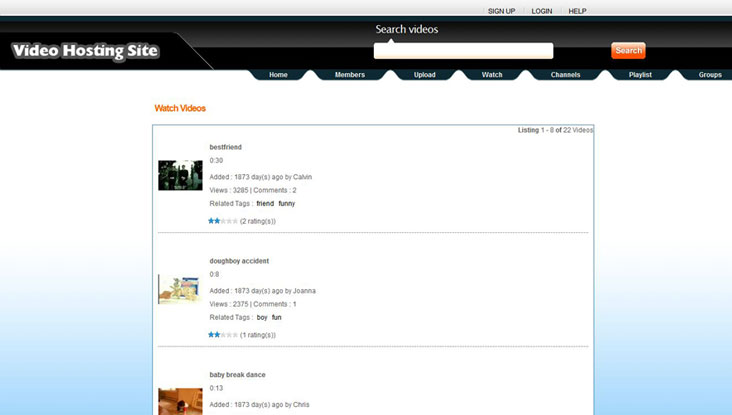 Admin Panel