"Technology is essential to the future of drayage-intermodal services" this has been distinguished and actualized by the CEO of CDL 1000, Inc. The company has resulted in customers continue to grow within a short time because of technology implementation. It fuels the network by creating efficiency and visibility and optimizes the logistic operations through automation and customization.
CDL 1000 is a 24-hour asset-based 3PL providing intermodal services throughout the United States and Canada that offers ramp solutions with advanced tracking and freight matching capabilities.
The company focuses on building personalized solutions for each client based on its unique unmet needs and untapped potential. In order to provide a positive, technology-forward experience for both yards and clients, CDL 1000 provides real-time tracking updates and encourages drivers to submit delivery feedback.
The platform offers groundbreaking solutions for the daily challenges surrounding drayage-intermodal operations. Intermodal drayage often plays a vital role in the supply chain and logistics industry. Drayage is an integral part of the logistics industry, with numerous organizations using the administration as a need.
What is exactly the Intermodal drayage?
In the world of shipping and logistics, intermodal refers to the utilization of more than one method of transportation to move a container or trailer. Drayage refers to the transport of cargo over a short distance, or as a major aspect of a longer distance. To deliver freight, combining the use of trucks, rail and ocean are seen as an effective way to meet the modern-day shipping time and cost demands that long-haul, over-the-road trucking neglects to do.
Drayage is a term utilized by the shipping and logistics sector to describe the process of transporting goods over short distances. While drayage can be utilized for the minor moving of products, as a rule, it is bound to use by the container shipping industry. Drayage can incorporate the trucking of containerized cargo from port to port, or the freight may be taken from a port to a rail yard to start the following leg of its adventure, or the load might be trucked to its ultimate location.
The intermodal drayage or container drayage procedure begins with the getting of freighted merchandise at an intermodal point, a distribution center, or a marine point. The cargo received is then isolated, stacked and taken to its subsequent destination point. The CDL1000 project is an incredible illustration of this concept.
How Real-time tracking and notifications are working?
Making a revolutionary move in the trucking industry, the transport-technology company offers a unique platform that not only gives customers real-time tracking updates on cargo en-route, but it records the driver's delivery feedback. Keeping tabs on how goods are handled by each customer's supply chain and logistics departments, both before and after the goods get into the containers, CDL 1000 has one goal in mind. Their newly-innovated process uses technology to assure the long-awaited products reach their destination on time, safely and efficiently.
Real-time tracking and notifications are the next phase development, the platform offers a subscription for business customers for Real-time tracking updates to make their deliveries and pickups fast and on time. The customers receiving deliveries and pickups with live tracking services and notifications. The newly-innovated process uses technology to assure the long-awaited products reach their destination on time, safely and efficiently.
The dispatcher will receive real-time notifications for driver duty, delivery status and other updates. Notifications are receiving as a pop up on their delivery board. They will also receive real-time location updates on the board of an active driver. From this board, a dispatcher can access the route map view of all active deliveries from the dashboard. Here they can find all the active delivery details like the driver name, phone and vehicle number for quick analysis.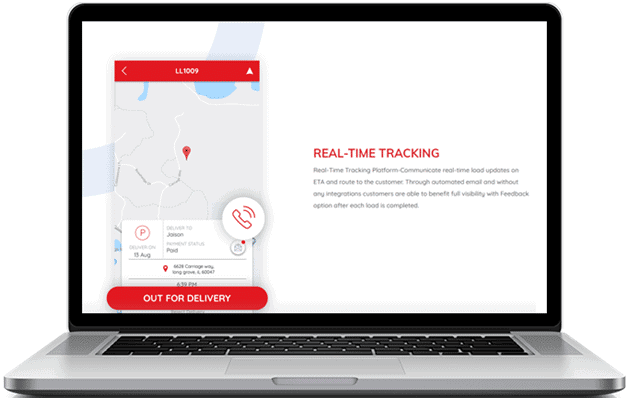 Driver Mobile App
The Driver is the last person that delivers service to an end customer. Therefore the company has developed a driver mobile app as an event of tracking the order pick-up and drop off locations, and by the way, making it easy for a driver to perform well on their job will directly help the customer in receiving the best possible service.
The CDL 1000 driver mobile app offers a complete set of features so that there is direct and real-time communication between the office and the delivery team. Drivers that use the application have consistently recognized it as an easy-to-use software. It gives a professional experience for the customers and gives real-time visibility to field operations to all involved.
The company and end-customers can track drivers by the real-time driver tracking feature which is working based on the status updating and live location of the driver. The driver allows managing their orders through this platform. The driver can get proof of delivery as a mobile photo or signature. This can be shared with the company for future reference.
As soon as a delivery arrives, it is assigned to a driver depending on their availability which can be done manually automatically. The system makes sure that it provides the fastest route for delivery and the delivery takes place efficiently. Real-time delivery information, including the location, and ETA is communicated to the customer.
Driver mobile app makes it easier for drivers to view the delivery details and update their status including proof of delivery.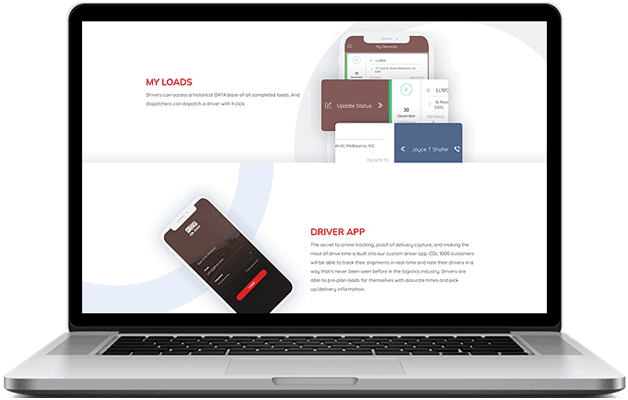 Hiring Drivers
America has a massive shortage of truck drivers. The driver shortage is already leading to delayed deliveries and higher prices for goods that Americans buy. The ATA(American Trucking Association) predicts that it's likely to get worse in the coming years.
Many trucking companies are so desperate for drivers that they are offering signing bonuses and pay raises. Even the CDL 1000, Inc. is also looking desperately for good performers.
The CDL 1000 website offers job application form with the best design user interface and experience for receiving the personal and professional details of drivers who look for a trucking job.
"Smart Logistics Technology" – It's Coming Soon
The CDL 1000 Smart Logistics Technology platform is under construction and supposes to deploy soon, which matches backhaul trucks with loads. The platform works as a marketplace for brokers, customers, and carriers to unite with the common goal of saving money and maximizing street turn opportunities. Find hundreds of intermodal hauling solutions through this multi-platform technology.
Initially, it will start with backhaul trucks to Chicagoland. Later, it will support other markets. This platform focuses on maximizing the resource utilization of logistics companies by converting empty miles into revenue-generating miles.
At the point when trucks are booked to deliver goods, the plan is usually made for a one-way journey. This implies when the truck returns to its base location, it often runs on empty miles where no goods are carried on its back. These empty miles translate into wasted fuel, time and money.
To deal with this inefficiency, the CDL 1000 incorporated company set to look for opportunities for trucking companies to deliver goods from its destination back to the truck's point of origin with the help of this Smart Logistics System.
If you are in the lookout for creating a similar deliverable application for your company, avail free consultation from our technical team at iScripts by clicking here. You can also call us on 312-423-6728 or compose an email containing your business requirements and budget to sales@iscripts.com to receive the best digital solutions for your company.