So, If you are planning to build an online eCommerce marketplace using iScripts MultiCart, here are some examples for you. The below examples are the ones who build their dream project using iScripts Multicart. Have a look at each of them.
Lyagso: Local Yard and Garage Sales Online
LYAGSO's online sales venue allows users to sell their unwanted or no longer needed items (for an undetermined period of time), so customers can find a buyer and clear out their home. By registering, the website will set up their customers with their own sales place so that they can be found in YOUR LOCAL AREA! Plus, website show them to potential customers throughout the entire United States, but most importantly, to buyers who will be in their area and looking for what they've got! iScripts MultiCart has been used as the foundation to develop LYAGSO, as the software currently has a marketplace design and sophisticated features.
CashBackOutDoors: Website For Cash Back and Deals

Cashback Outdoors is an e-commerce platform similar to eBates.com. This unique site functions as a form of an affiliate marketing site. A portion of the affiliate commission will be shared with users who make successful purchases through the website. iScripts MultiCart has been used as the foundation to develop Cashback Outdoors, as the software currently has a marketplace design and sophisticated features.
iBuyJamaica: Jamaican-related products and services
Ruby Simmonds contacted iScripts to develop a trading website in which users could visit and shop Jamaica without leaving the comfort of their own home.
iBuyJamaica is the ideal marketplace for buyers, sellers, and users looking for access Jamaican-related products and services. iBuyJamaica.com sources and consolidates all available deals in one easy to access location for the benefit of all interested parties. The primary focus of the site is to offer users an opportunity to buy and sell at mutually agreed prices that are below the usual prices within the marketplace.
An interesting aspect implemented within the site is a cash on delivery feature. This allows local users to reserve items and pick up in person.
Can't find it on the website? Simply complete a Wish List and they will source it for you free of cost!
Essential Tools and Gadgets
Essential Tools and Gadgets is a one-stop store for all your shopping needs. Essential Tools and Gadgets list out different items that you won't find elsewhere. There are many local manufacturers with locally stocked items. Most of their manufacturers are in the USA; they have gone out of their way to bring Essential Tools and Gadgets the highest quality products.
Bonanssa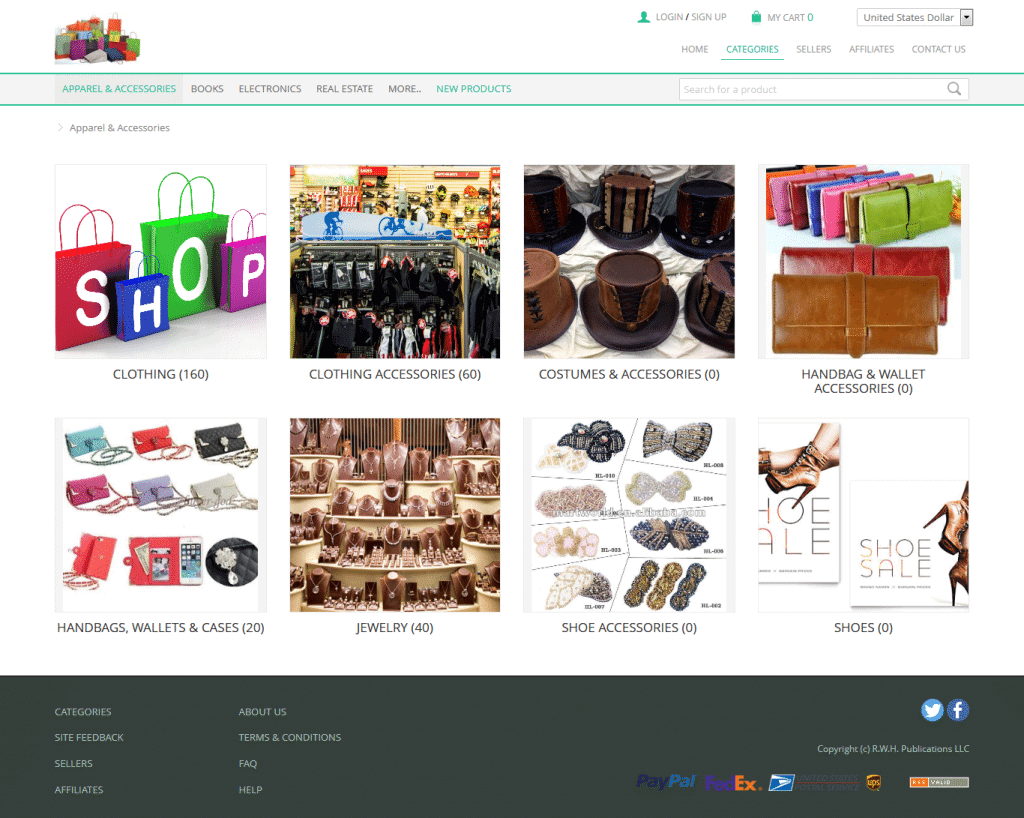 Bonanssa is not just an e-commerce store. It's a meeting place. Bonanssa's business is to give entrepreneurs and sellers a place to reach buyers. Bonanssa allows users to shop directly from the people around them. Using iScripts multi-vendor shopping cart, Bonanssa had set up their business website model efficiently at a low rate. iScripts MultiCart is a user-friendly eCommerce platform where users can find and purchase their things in the easiest way.
iScripts Multi-Vendor Shopping Cart software forms the main platform for this site to provide an online shopping service, where you can view and purchase the best quality items from different sellers around the world.
Choosing the right platform is an important task, and no one is an expert in this area. We may make mistakes, and we can't assure a perfect decision. But, there are factors that can support our decision to learn one way or another. It's better to see through the other factors like the possibility of customization and 24/7 support. A proper support team could be a great benefit for the business. We would recommend to look for factors like these which can help make your final decision. A good software product is iScripts MuliCart.
Many of our customers have been impressed with the capabilities of our multi-vendor eCommerce software which gives website administrators the ability to create an online marketplace of their own similar to Etsy or Amazon. You can have a similar site with slick design and the flexibility of your own site. Create your own multi-vendor site with the right tools already included in the backend. It's important to have a site equipped with all the features to make it a fully functional and impressive site.
iScripts MultiCart Buyer Android and IOS App
In addition to first-class features and functionality, iScripts MultiCart also includes an Android/ IOS buyer app. The buyer app allows your online users to place orders online while flawlessly navigating and browsing through various products.
Create your own eCommerce site by yourself using iScripts Multicart.
Experiment with the demo to get a better feel for the site you could own and market. This includes the payment methods, shipping options, user settings and more.
Do you have a specific idea or expectation of your dream site? If you edit the settings and still feel you would like to expand your site to better match your desired finished product, we can help you accomplish it. We have the ability to modify and tweak the script and add any additional features or site design changes.
Our experienced team is ready to help create your site just the way you want. Just tell us your thoughts and any budget specifics or limitations. We will work with you to provide the best options! We have reasonable rates and are ready to assist.
Try it out for yourself right now See the Live DEMO Here
For more information or questions related to how you can take advantage of the platform, contact us at (312) 423-6728. We also offer custom development of web and mobile apps at a reasonable rate.
We look forward to helping and assisting you in the process of selecting your platform and creating the best site possible, all at an affordable price.