iScripts has served thousands of customers for developing business ideas into an application using our innovative scripts. It is so cheap for our customers to set up a website for their online business as iScripts has a wide arena of built-in scripts on various domains like On-Demand service platform, Multi-Restaurant Platform, Multi-Vendor Shopping Cart, Online Printer design studio, Online Store Builder Software, Multi-Channel eCommerce, Affinity Group Deal Platform, Virtual Swapmeet Software etc…
Soho Web Services
Whoever the user, a novice or a business owner, iCe Hosting services are simple enough for everyone to set up a new website or expanding an existing website to a new level. iCe Domain Services include domain name registration and transfer. Making it easier for the users to host, build and manage your website, all in one place. iCe Site Builder provides a site builder feature to build your own website online. Site building is quite easy enough now for anyone to use, it is a great starting point to get your website online and live for everyone to see.
Sohowebservices is build using the powerful online store building and shopping cart hosting system from iScripts, iScripts AutoHoster. iScripts AutoHoster allows your customers to build e-commerce stores and host them on your server – similar to sites such as Volusion and Shopify. Following peculiarities of the software is the quite attracting and unique selling point of
Sohowebservices :
Powerful Administrator Panel
Integrated Online Website Builder
Multiple Site Themes and Styles
Live Chat and Remote Desktop Sharing
Integrated Knowledgebase
iScripts AutoHoster is a all-Inclusive Web Hosting Management System designed for launching a successful web hosting business.
iScripts AutoHoster is designed specifically for resellers, web hosting and web design businesses. The hosting management software includes a range of impressive features, making it the only comprehensive online web hosting software available today.
After installing the software, administrator of the website can choose to operate your web hosting business using the following models:
Fully Automated Model
Semi-Automated Hosting
Manual Operation Model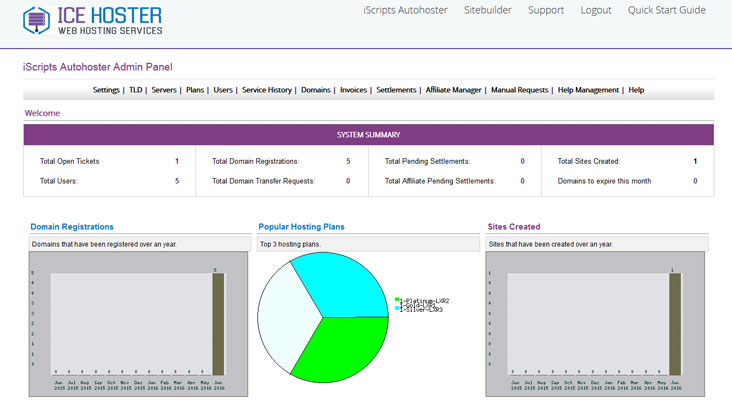 Now curious to know more about iScripts web hosting software, iScripts AutoHoster? We have arranged a free demo for you to know in detail the working of the software and learn world-class features added to the software. Watch Free Live Demo of the software and
Call us at (312) 423-6728 with any questions you may have.