Web hosting is one of the trending business that isn't slow down. Web hosting is essentially rental space on a computer that holds all the files for your website. This computer is most often referred to as a server. It's best to think of a server as the place where your website lives.
Did you ever notice why the web hosting business has its demand forever? Reasons are:
Earn recurring income every single month
Increase your earnings month after month
Work from home (or anywhere you want to work from)
Add a new service to an existing web design or internet marketing business
Entering to Web hosting business is obviously great but you need a strong platform to reach success in these competitive segments. Ultimately, your decision to start your own hosting business should depend on your motivations, technical know-how and the workload you can handle.
Starting a hosting business also requires a significant time commitment. Initially, you have to find time for a daily basis maintaining your website, providing customer support and processing payments. Eventually, everything goes your business will grow to become a full-time job with great pay.
Do you know how easy to start an online business?
Important fields needed for a perfect business platform: 
Setup Your Website, Billing System, and Support Channels
If you have dedicated servers set up and ready to go for customers. Now create a website as the face of your business. You'll also need other systems before you can start selling.
cPanel / Plesk is the most popular website hosting control panel, and it easily integrates with CloudLinux to isolate customers. A built-in support desk for handling customer inquiries. Many hosts opt to use external helpdesk software like Kayako or Zendesk. Most new web hosts start off by only offering email support and choose other support channels when necessary.
Shared web hosting:
Shared servers are share server space with other clients of the hosting company. You're also sharing costs, which makes shared hosting an inexpensive option. It's a good starter choice for sites not expecting large amounts of traffic, but there are downsides. If another site sharing the server attracts heavy usage (or worse, gets hacked), it'll affect your site's performance and could potentially take down your website until usage normalizes. Or if your site generates the increased traffic, you could be charged extra.
Dedicated web hosting:
Dedicated web hosting is comparatively cheaper, limited in disc space and bandwidth, dedicated web hosting assigns a server to your business exclusively and it's usually more expensive. However, the trade-off would be worth it if your site generates significant traffic or you expect it to in the future. With dedicated hosting, you may also have to take care of your own maintenance, unless you upgrade to managed hosting
VPS web hosting:
Somewhere between shared and dedicated hosting in price and performance is virtual private server (VPS) hosting. VPS hosting simulates a dedicated server within a partitioned shared server, with its own operating system, storage, RAM, and data transfers for more stable and insulated site efficiency. While VPS is still a form of shared web hosting, it's more expensive but still typically costs half as much as dedicated hosting.
Reseller Hosting: A reseller hosting account is much cheaper since a physical server can host multiple reseller accounts as the user will have to pay just for a part of the resources of the server while he gets the first customers and can afford to upgrade to a dedicated server and continue growing.
The reseller hosting market became really popular about 10 years ago and its market share was rapidly increasing until the VPS hosting was invented allowing the end-user much more control than the reseller account at a lower price. At the moment, reseller hosting is still actively being sold and mainly used by web design studios, web developers, people looking to sell web hosting and others hosting their own websites and friends websites.
If you are not tech-savvy here are a few simple methods you might want to consider when it comes to managing your web hosting software. Many web hosting software today comes with an integrated website builder to create and manage professional looking websites. One of the best examples is the iScripts AutoHoster.
AutoHoster is indeed, a complete hosting management system for both your customer and yourself. Everything needed is included within a single bundle, saving a great amount of time. The possibility to expand your services is also made easier with this unencrypted open-source script. Choose the best for your business and iScripts AutoHoster is there for the customers who are looking for the best hosting management website which comes with the best affordable price available in the market now.
Learn more about how does hosting management software works.
iScripts AutoHoster supports 3 different modes.
FULLY AUTOMATED MODEL
SEMI-AUTOMATED HOSTING
MANUAL OPERATION MODEL
Customer Portfolio: Soho Web Services Hosting
iScripts has served thousands of customers for developing business ideas into an application using our innovative scripts. It is so cheap for our customers to set up a website for their online business as iScripts has a wide arena of built-in scripts on various domains like On-Demand service platform, Multi-Restaurant Platform, Multi-Vendor Shopping Cart, Online Printer design studio, Online Store Builder Software, Multi-Channel eCommerce, Affinity Group Deal Platform, Virtual Swapmeet Software etc…
Whoever the user, a novice or a business owner, iCe Hosting services are simple enough for everyone to set up a new website or expanding an existing website to a new level. iCe Domain Services include domain name registration and transfer. Making it easier for the users to host, build and manage your website, all in one place. iCe Site Builder provides a site builder feature to build your own website online. Site building is quite easy enough now for anyone to use, it is a great starting point to get your website online and live for everyone to see.
Sohowebservices is build using the powerful online store building and shopping cart hosting system from iScripts, iScripts AutoHoster. iScripts AutoHoster allows your customers to build e-commerce stores and host them on your server – similar to sites such as Volusion and Shopify. Following peculiarities of the software is the quite attracting and unique selling point of
Sohowebservices :
Powerful Administrator Panel
Integrated Online Website Builder
Multiple Site Themes and Styles
Live Chat and Remote Desktop Sharing
Integrated Knowledgebase
iScripts AutoHoster is an all-Inclusive Web Hosting Management System designed for launching a successful web hosting business.
iScripts AutoHoster is designed specifically for resellers, web hosting, and web design businesses. The hosting management software includes a range of impressive features, making it the only comprehensive online web hosting software available today.
Here are the tips to become an internet entrepreneur.
After installing the software, the administrator of the website can choose to operate your web hosting business using the following models:
Fully Automated Model
Semi-Automated Hosting
Manual Operation Model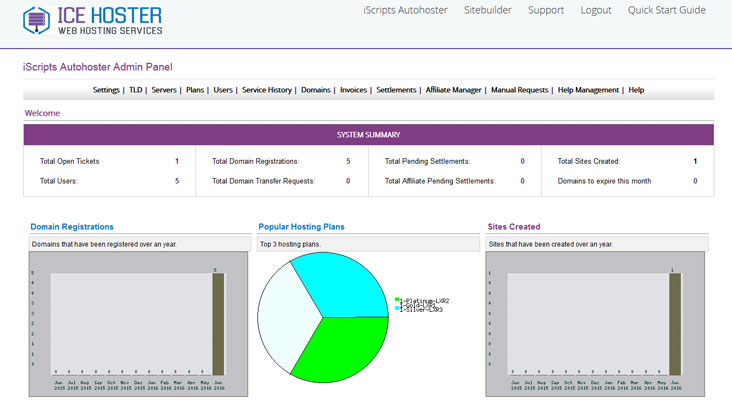 Have questions about our web software and mobile apps and how it can work with your existing business or online business idea?
Call us at (312) 423-6728 with any questions you may have. We'd be happy to explain how our software works, including any additional business, needs you may have.
We also offer custom development of web and mobile apps at a reasonable rate.